Let's Go Into Space 7 launching from Prague this time!
The hottest 1980's cosmic italo disco songs from the Czech national music archive bundled on one album. Supraphon was founded in 1932 and is the biggest original music company of East Europe since now. They sold their vinyls also in own Supraphon music shops until the 1990's and have more than 100000 master tape recordings in their archive. The shop in Prague is still active. It was a honor to license these rare and undiscovered recordings.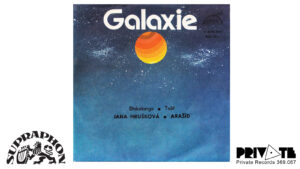 The best singers and the finest musicians + even featuring a mega rare 1980's cosmic italo disco song by musicians from the world famous Prague opera.Kamila Olsanikova & Sirius from Let's Go Into Space 6 are featured again with 2 additional mega rare cosmic jams. Stuff which is in no way inferior to their Italian Disco friends in terms of rarity and collector's value on Discogs. Check yourself, except one song all songs are mega rare, or impossible to find or mega expensive.
Filigrán – Digi Digi
Odysseus – Jupiter
Allegro & Magda Malá – Módní – Líbezná
Kamila Olšaníková & Sirius -Kolik Týdnů Ještě Zbývá
Maximum Petra Hanniga – Hodili Mě Do Vody
Arnošt Pátek – Den Co Den
Kamila Olšaníková & Sirius – Báječně Spát
Arašíd – Diskotango
Get all this mega rare songs dubbed from the original Suphraphon master tapes on one vinyl because it will be impossible to find them otherwise. For example we watched out for the Digi Digi 7" vinyl on Ebay for 3 years and it was offered 0 times. Not only this one getting mega wanted at the moment.
Audio preview + Supraphon impressions:
Shipping costs to these countries may vary. New Zealand, Australia, Norway. Vinyls get shipped out with UPS in Europe and with USPS to the USA.